The annual training conference for Oklahoma Science Olympiad Coaches and Event Supervisors will take place Saturday, September 20 in Howell Hall on the campus of the University of Central Oklahoma
Coaches and Assistant Coaches of Division B and Division C Oklahoma Science Olympiad teams are encouraged to attend the full day of training.  This will be your earliest opportunity to read and learn the details of this year's competition events.  Schools that have joined the Oklahoma Science Olympiad by September 20th will receive their official 2015 rules manuals at the door.  Coaches will be able to review all 23 events in each division as well as pick up coaching tips, ask questions, and also learn how to form a science olympiad team and get them ready for competition.
Veteran and new Event Supervisors will also receive orientation to this year's events as well as information on scoring and evaluating team performance.  We have designed the schedule in such a way as to allow event supervisors the option of only attending a portion of the day, but ALL event supervisors should plan to attend lunch, which features a panel discussion about procedures and responsibilities of supervisors.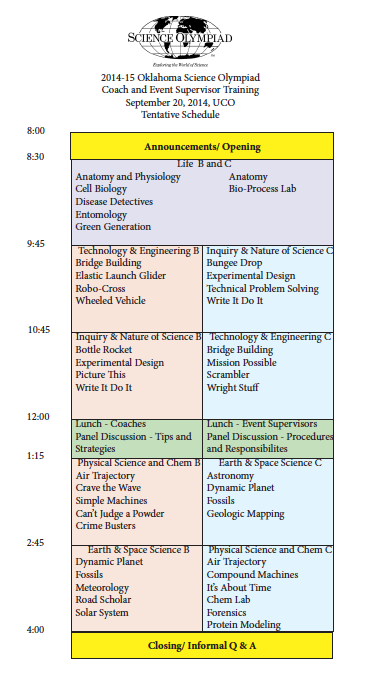 The training is FREE, but all participants must pre-register HERE.
Questions?  Contact Bob